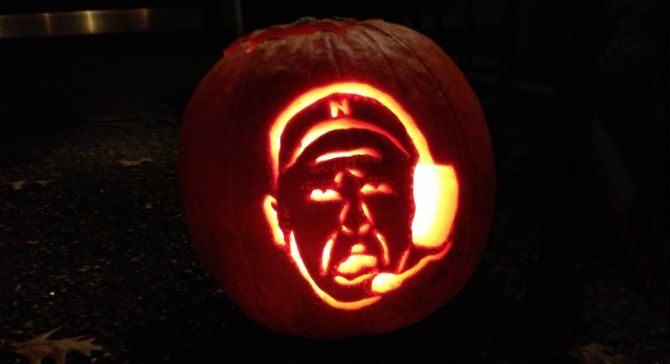 Every year that we've been out in CT, besides the snowstorm that canceled Halloween last year, I've carved a Husker pumpkin. This year was no exception as I went with the Bo Pelini approach.
Three years ago was
a classic approach
, two years ago was
the ever-so-fitting Blackshirts pumpkin
and unfortunately last year, Halloween was canceled in CT (along with our power and will do carve pumpkins).
After searching long and hard for the next Husker pumpkin to create, I somehow
stumbled upon a stencil
of
Mark
Bo Pelini. Low and behold ... created by no other than the famous
BVK
(who coined the term Jack-Bo-Lantern). Just when you thought when Ben's awesomeness has reached its peak, he somehow always finds another gear to push further.
As for the other creations from last night, here they are:
Pumpkins as are follows: Christi (top left), Brian (top right), Scott (bottom left) and Anne (bottom right).