10 years of dating
08 October 2010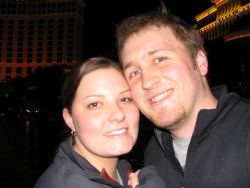 Ten years ago to the day, October 8, 2000, Christi and I thought it would be a good idea to push our friendship a little closer together and start dating. So we're ten years in, and there are no complaints (at least from my side).
It feels like it's just been a couple of years, but when we sit back and think that we've been together longer than 1/3 of our lives, it really puts it into perspective.
I know it's a little strange to celebrate something like this after your married and have a "real" anniversary, but I think it's just a testament to us putting in the time and effort over all these years. Maybe someday we'll lose focus and forget about it, but tonight, we're celebrating 10 great years.