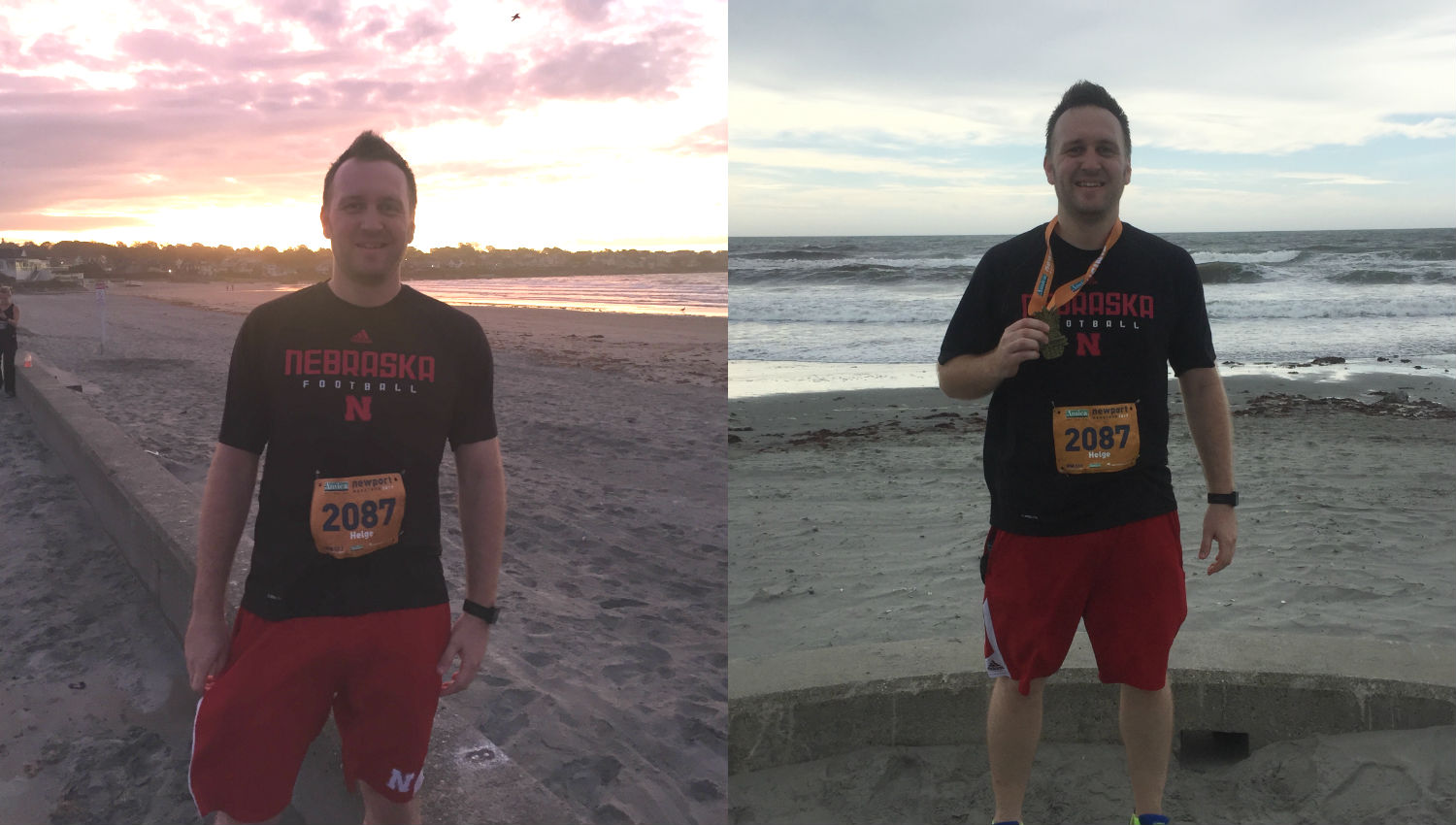 Back in 2011, after taking in the mansions on the cliff walk and then enjoying a polo match in the evening, Ben Martens talked me into signing up for the Newport half marathon. Six years later, I finally made good on the promise.
While Ben moved away shortly after that, I tried once, maybe in 2012, to train and run this. Not knowing what I was doing and getting overly ambitious ended up with me getting a bad case of plantar fasciitis and only reaching about six miles on my longest run. I'm not sure if it was the fact that things are easier now with the kids being older or if I just felt like I was getting to the back 9, golf speaking, on my window of actually doing this but I got the urge to try for it again. The impromptu
Australia trip
this year put my training plans out of whack. So as soon as I got back, I got right to work. I had nine weeks to train, including the majority of the eighth week with Christi in Nebraska. After the second week I was running at least a 5K each time out four times a week while steadily increasing the Sunday runs to distance. I made it up to 9 and a 9.5 miles the weeks before the race and figured if I could go that far, I could do 4 more with some adrenaline and a few thousand people around me.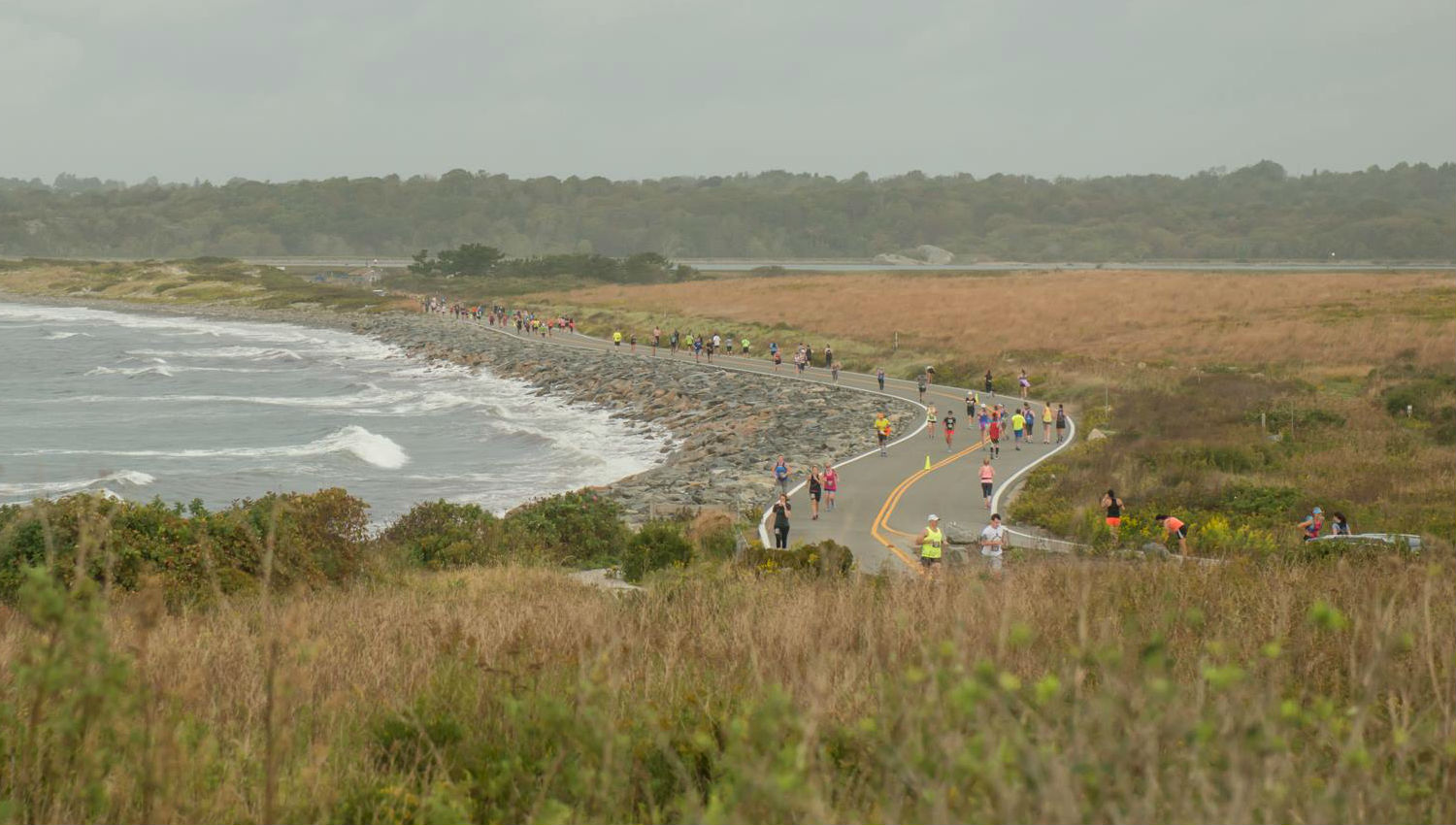 Back when I was running cross country
16-17
many years ago, there were maybe 50-75 runners and I just hung out in the back since I finished with times in the high 23s. It was MUCH different with 4000 people starting at the same time. While heading out in the second of three flights, the first mile was a little bit of a struggle just to get around people and find a good pace.
The first four miles were all about keeping the pace in the single digit mile splits and getting used to the course. This includes figuring out how to pick up water/gatorade on the run and not completely a) come to a complete stop and b) spill it all over myself.
Miles five through nine were all about enjoying the amazing views while running along the ocean and trying to keep each mile under 11 minutes. My goal coming in was 2:30:00 meaning the entire pace had to be right around 11 min/mile. I figured if the first four were at a good pace and these next five were still under the target time, it would give me a little breathing room down the stretch ... and did I need it later.
As I said before, the longest I ran in my training was 9.5 miles. I didn't even sniff this distance in high school running for two years. So when I hit this mark, then get to mile 10 all I think to myself, "Alright, it's just another 5k here on out, I've done many of these during my training. No big deal." Well, those last three miles hurt. Miles 11 and 12 were mostly uphill climbs and my body was having absolutely none of it. My right calf started cramping up pretty bad and hampered me down the stretch which obviously I wasn't trained for. Looking at my running watch I was calculating my pace, which felt like every other step, to make sure that I hit that 2:30:00 number I made up weeks ago. I'm not one of those people who will get "hooked" on running so I tried to push to the finish.
While the mile splits were pretty horrible, looking at the image below, I found the way to push through and make it to the finish line. The smell of the ocean and salt in the air reminded me what I just did that morning and that I actually made it. Even under my goal time ... but just barely. The official time from my tracking chip was
2:25:48
, even though my watch clocked in a shade slower.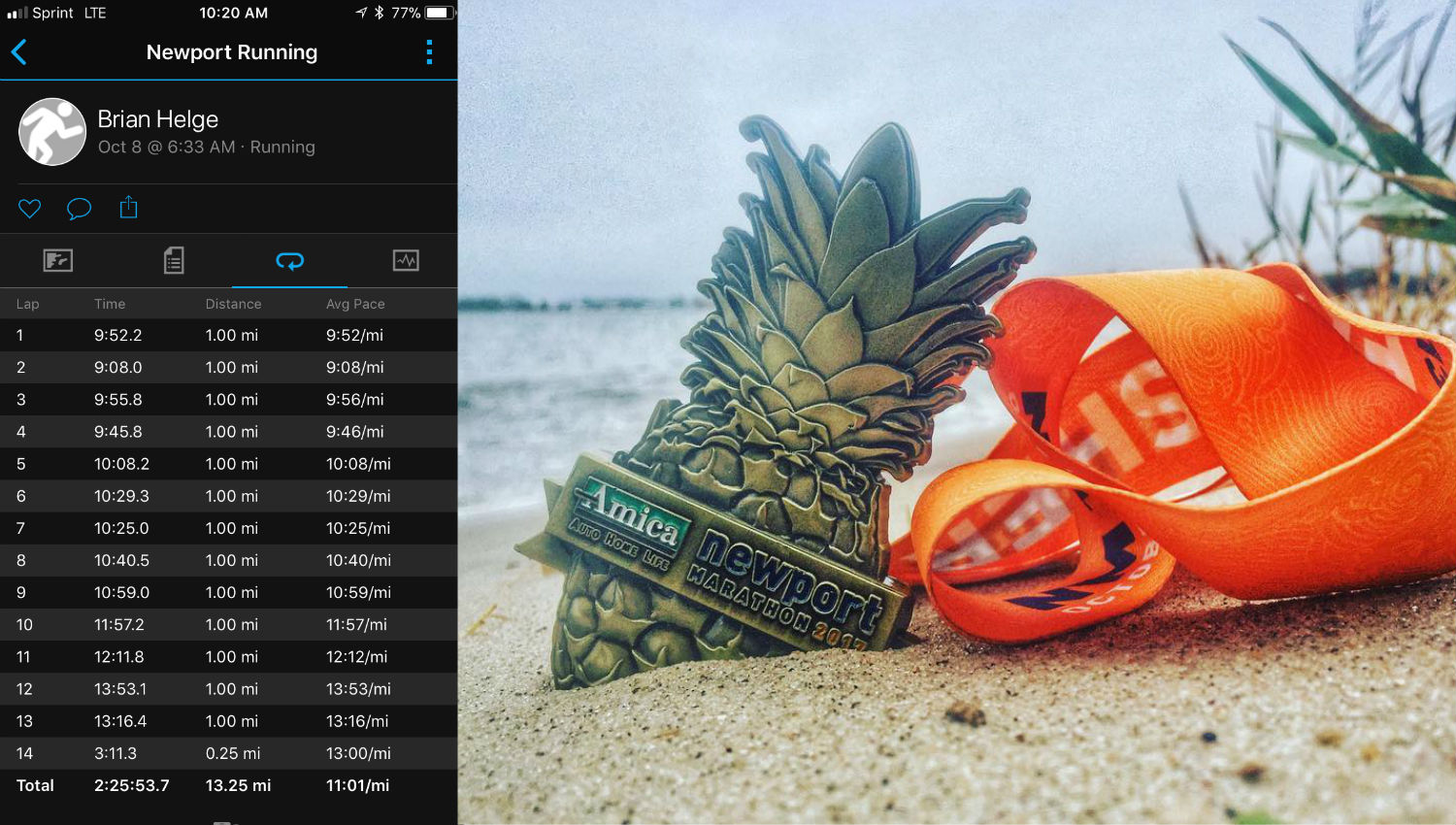 After walking around for 10-15 minutes to try to get my legs to gain their feeling again, I was amazed at some of the food offerings for runners. They had, which I assume, the normal things like water, Gatorade, bananas, peanut butter, oranges, etc. However, and maybe this is just Newport or the northeast, they were passing out soup to people. I'm talking clam chowder and lobster bisque. I was having trouble stomaching half a banana.
None of this could have been possible without the help and support of my amazing wife. From waking up to my running alarms at 5am so I could still see my kids in the morning, to getting the kids ready each morning I was out for runs, to helping me deal with my gruesome blisters that somehow only formed on my right foot, she was always there motivating me along the way. The "I'm so proud of you" and "you're doing amazing" and everything in between was exactly what I needed to keep pushing along. Even her leaving for her work trip during week 8 of training was a blessing in disguise as I read about a lot of people tapering and my run when she came back and then the half marathon, at least the first 9.5 miles, were some of the best runs I had in the past two months. So thanks babe, definitely wouldn't have happened if it weren't for you! Well ... and for Ben drunkenly talking me into this about six years ago.