Monterey Bay Half Marathon
18 December 2018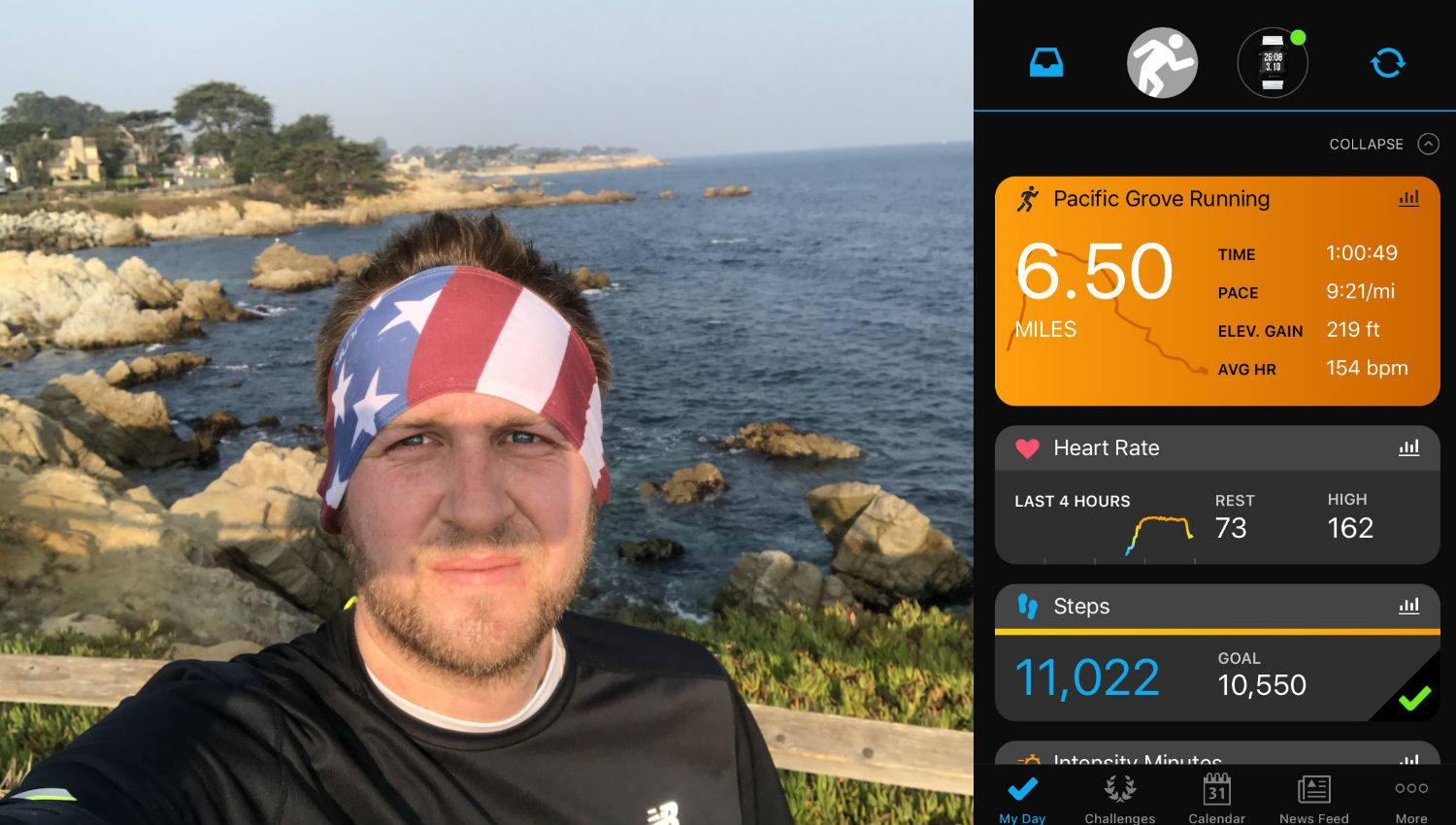 No more than a week after I finished my
first half marathon
last fall one of the first things that I told Christi I was going to do was throw my shoes away and never do it again. Story to come in the following few paragraphs, but technically I haven't lied to her. At least not yet.
It's not that running half is hard to do as hundreds of thousands of people, I'm guessing, do one every year. For me, it's the training. Just a whole lot of time and effort. This year I had more of a plan going into it so I thought I'd train a lot longer. My schedule basically looked like this: wake up at 5.30 and run four times a week for three months. For the final month and a half of training I stopped drinking (yeah, me turning down beer) and really focussed on eating well to try to trim down my time ... as well as my weight. Both worked out pretty well as I was probably in the best post-kids dad bod of my life as well as trimming my time from last year by over a minute a mile. It might not sound like a lot, but this year that was my goal. Beat last year by thirteen minutes or better.
So I train. I don't drink. I wake up every other morning at 5.30 to run in the cold. Oh so cold. For the last month the temperature was never above 42 degrees when I went out. Note to self: Never, ever train for another November race in a state where it gets freezing cold. So all of this is going great. I log 186.8 miles, randomly, meaning that when I finish the half I'd hit 200 for the year.
The nice part about doing the Monterey Bay Half is that I had three friends doing it with me this year: Zach, Ben and Chris. So aside from the race itself, it turned out to be a nice guys trip out on the west coast. With the race on Sunday, we all arrived in town on Friday afternoon. Ben and I got delayed for our last flight from San Francisco due to all of the smoke in the air from the wildfires in the area. As we land in Monterey, you can tell it's smoky there as well, as the views off the water weren't as nice as you could've expected they would be. Saturday morning consisted of watching Husker football, then we go down 18 mile drive by Pebble Beach to enjoy the views and enjoy some overpriced cocktails at some different golf courses. We then pick a small but awesome Thai place to eat and while we're standing in line one of the guys checks their phone and reveals they received an email saying the race was canceled. Twelve hours before the race they canceled it.
I was pretty pissed deep down just because of how hard I trained this year and how well I was expecting to run. After a few minutes of the first selfish thoughts, I realized people are being uprooted from their homes left and right from the fire and at the end of the day I was on vacation with some friends I don't get to see too often so it could've been worse (like if they canceled the Newport race I was running solo last year). So that night we got hooked on watching a few documentaries on the Barkley Marathons. If you haven't heard about this, please spend a few hours catching up. It's so amazing and heartbreaking at the same time. We finish around midnight and Ben and Chris are destined to just go run the race route by themselves in the morning. Zach wanted to sleep and I was somewhere in the middle saying I'd probably run.
We wake up, I go outside and it's smelling like someone is grilling everywhere you go. So I make the decision to just drop off Ben and Chris at the starting line so they can run and I'd go pick up the medals for everyone. After doing that and coming back home, the wind shifted and the air was clearing up. Training as much as I did and traveling all the way for the race, I decided to put on my gear and go log some miles along the coast. I ran a little more than a 10k, didn't concentrate on my time too much and was just enjoying the amazing view. I was shocked at how many other runners were doing the same thing. After completing the run, my time was well under the pace I was expecting during the actual race just reassuring that had we run the race with everyone, I felt like I would've done pretty well, but we'll never know.
The four of us said we'd pick a new spot in 2020 to try to run another one. Maybe Vancouver, maybe Whidbey Island or maybe Nova Scotia. We'll figure it out and try all of this again just so I can lie to my wife from something I told her in 2017!